(originally posted 6/10/08)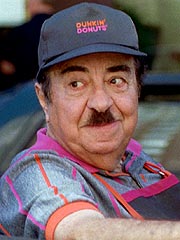 I found out my step-grandfather died tonight. No sympathy required — it's sort of a funny story. Dark humor, you know.
I've written about Ralph before, but there's still much to tell.
He was a fixture through my youth, though once my grandmother passed away our family cut Ralph loose. Withhold your judgments — he was a miserable human being, and we endured plenty.
My grandmother should've known better, but wisdom wasn't her thing. Ralph was arrested soon after they married, for bigamy, at which time my grandmother discovered he had kids, though, for reasons unknown, they were told Ralph was dead. Despite those bright red hurricane warning flags, my grandmother stuck with him.
My mom always felt pity for her mother, so no matter what Ralph did, we were trained to pretend everything was fine.
When Ralph said he had lunch with Colin Powell, we indulged him, as we did when he claimed the cable company forced him to subscribe to the Playboy Channel. "I told them I want that filth off my TV, but they said it comes with the basic package." "Oh really, Ralph. That's a shame."
Ralph later went bankrupt selling those pre-Direct TV giant satellite dishes, though he kept one for himself. We were to believe he was exposed to information unavailable to those of us with mere cable television.
Soon after Rock Hudson died of AIDS, Ralph told us veteran character actor Roddy McDowall announced he, too, had the disease. "I saw it on the satellite," he said. "The satellite" also reported that Michael Jackson had third degree burns from head to toe after that infamous Pepsi commercial gone wrong.
"They don't think he's going to live," Ralph told us. He saw it on the satellite.
Ralph (last name: Martinis) once said there were seven other Ralph Martinis' (name spelled the same) staying at his hotel. "Really, Ralph. Wow, that's something else."
He also used to race speedboats on the Chesapeake Bay; "I was the prince of Bal-tee-more," said Ralph, who had little tolerance for non-Yankees; once, when unable to find a Mobil gas station, he blamed their absence on "stupid Southerners."
I decided to enlist a colleague in the research department to uncover the enigma wrapped in the very large riddle (he was pushing 300 lbs.) that is/was Ralph. Unfortunately, most questions remain unanswered, though she uncovered his obituary, a little less than two months old.
Not much revealed within, except that Ralph was a veteran of the Korean Conflict. That could explain a lot — post-traumatic stress or whatever.
One problem: Ralph would've been 13 when the war commenced, 16 at its conclusion. Something tells me we would've heard about that.
At least he was consistent, fabricating until his bitter end.